What to Expect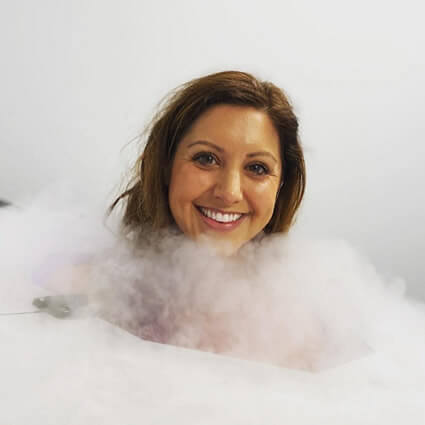 If you're new to cryotherapy, you want to know what it will be like on your first visit. When you step into our practice, you'll know it's a perfect place for you to start relaxing. Check in with one of our professional client service associates, who will have some papers for you to sign. Get ready to start your healing!
How to Prepare
Men: wear boxers, briefs or swim trunks. Undergarments must be dry. A towel can be provided.
Women: wear undergarments or a soft bra. If possible, make sure your bra has no underwire.
Do not apply oils, perfume, lotions or alcohol-based products before your session. You'll receive a clean pair of socks, gloves and slippers. Leave your jewelry home, if possible.
Your First Cryotherapy Visit
You'll be escorted to a private room and have all your questions answered. Your consultant will explain the cryotherapy process. There are private dressing rooms in the Cryo room. Someone from our team will always be in the room.
Only your face is seen, and you're given the utmost privacy and respect. There is always a team member in the room running the session. Your cryotherapy sessions last for 2.5-3 minutes based on your tolerance levels.
After the session, your consultant will leave the room so you can get dressed.
Do You Accept Insurance?
Unfortunately, insurance does not cover cryotherapy. You may, however, be able to use your health savings account.

What to Expect | (919) 758-3747