NormaTec Compression Therapy
at CryoNC Boutique Wellness Center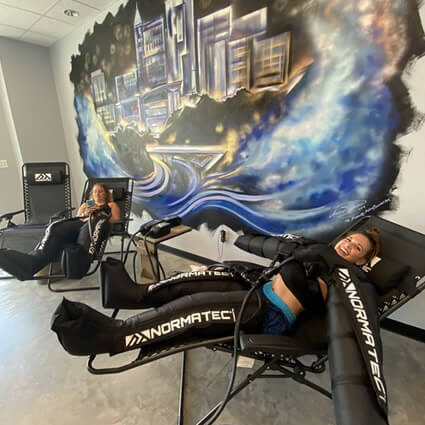 One of the best-kept secrets of elite-level athletes is dynamic compression therapy. It's now available to the Raleigh community at CryoNC Boutique Wellness Center. The benefits of our leading-edge NormaTec compression therapy include
Relief of muscle soreness
Release of lactic acid
Drainage of the lymphatic system
Increase in your mobility
Addresses cellulite and varicose veins
For Athletes and Non-Athletes Alike
With a range of applications, NormaTec compression therapy isn't just for world-class or competitive athletes. It can be used by nearly anyone, as the benefits are far-reaching.
During your session, you'll relax in a chair with your feet up and have the option to watch television. You can have a 30-minute or hour-long session, depending on your unique needs.
Frequently Asked Questions
What does it feel like to have compression therapy?
At your compression therapy session, you'll feel a sensation of tight squeezing that works its way through the chambers of the device, either on your arms or legs. It's relaxing and works much like a massage does, soothing sore or tired muscles.
What are the advantages of using compression therapy?
Compression therapy uses external compression. It mimics your body's normal physiology by using a gradient, pulsing and distal release pattern of compression. It's a highly sophisticated, effective recovery tool.
When is compression therapy most beneficial?
Anyone who is active can benefit from compression therapy. You can have it done before or after you exercise as a routine part of your training or before participating in high-level competitions.
How long is a compression therapy session?
You will have a high-tech warm-up which will promote blood flow. This warm-up will last about 10-20 minutes.
Speed up muscle recovery, decrease muscle fatigue and stiffness: 20-60 minutes.
Reduce edema, pain and stiffness, increase ROM, prevent further injury; speed incisional healing: 20-60 minutes (1 session per day for at least 5 days)
What does the compression therapy session do?
The dynamic compression therapy activates your lymphatic system to flush fluid build-up and remove the lactic acid from muscles. This provides immediate relief for restless leg syndrome and heavy legs after exercise. This process also helps tighten the skin and not only reduces the appearance of cellulite but aids in the prevention of accumulation of cellulite.
Is It Right for You?
Find out more about NormaTec compression therapy Raleigh and our array of options to help keep you feeling good. Contact CryoNC Boutique Wellness Center today!
CONTACT US »

NormaTec Compression Therapy in Raleigh NC | (919) 758-3747